Welcome to
Tax Questions
Tax Questions is a resource website for taxpayers. When it comes to tax codes, tax laws and the IRS, most taxpayers have questions, usually more than one. Most of the tax questions are not easily answered by reading IRS guides, IRS instruction booklets or IRS tax publications. That's where the Tax Questions Center comes in to offer income tax help. At our Tax Questions Center, taxpayers can ask any tax questions for free. There is also a large database of federal income tax questions, including IRS questions, that other taxpayers have asked in the past. Whenever the same tax questions come up, the answers to them are kept in our Tax Questions database and gradually posted on our Tax Questions website.
If you have questions about tax preparation, tax filing or the IRS income tax, please browse through our database of frequently asked income tax questions to see if answers have already been posted. We are in the process of migrating all our tax questions database online so in time you will be able to read all the answers to any tax questions previously asked online. All of our tax questions, tax answers and tax topic research are free.

IRS publications, instruction booklets and tax forms will be referred to often. All of the IRS resources, publications and forms can be downloaded from the IRS website.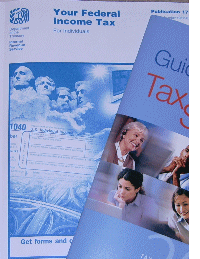 However, we found that most people get overwhelmed by how much information there is on the IRS website and find it difficult to get answers they are looking for. This is how our Tax Questions Center adds value to taxpayers in helping them understand how to file their tax returns and understand resources provided by the IRS.
Our Tax Questions Center project is a long term project and we constantly add more answers to tax questions and guide taxpayers in the right direction of where to find more information and resources.
We offer free online tax questions and answers. You can use the link below to bookmark this Tax Questions website for future use.
Click here to add Tax Questions to your favorites
Tax Questions is a resource and information website. We do not offer individual advice. For specific tax questions and answers, please consult your tax attorney.